As a GovX ID partner, you have the opportunity to list your store on GovX.com. This is a great way to get your protected discount offer in front of millions of potential customers.
What is GovX.com?
GovX.com is the largest online marketplace focused exclusively on serving those who serve, including current and former military, first responders, medical personnel, and government employees. We have over 6.7 million members that are pre-verified and rely on GovX.com to discover new brands and purchase the products they want and need.
Who can list on GovX?
In order to list your store on GovX, you must have the GovX ID app installed. Additionally, we have some exclusions based on product type including (but not limited to):
CBD/THC, tobacco or alcohol-related products
Offensive or overtly political content or products
Guns, ammunition or gun magazines of any size
Retailers with products overlapping with our direct partnerships
How do I list my store?
Listing your store on GovX.com is easy! Once your protected discount is live on your site, click on the Marketing tab in the GovX ID app in your store admin. Then click the button to list your store and approve the subscription.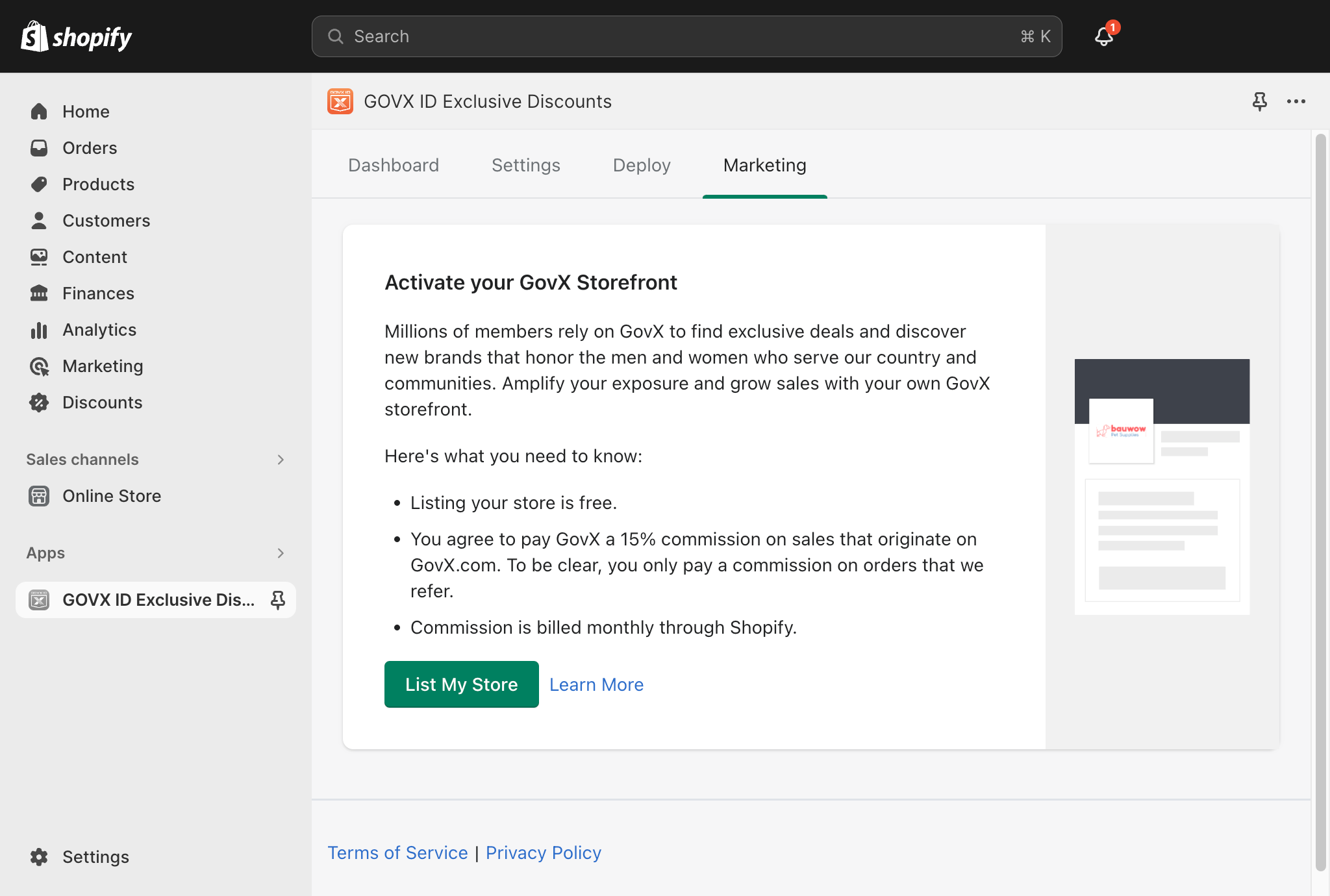 That's it! Your personalized store page should be live in less than a minute. To preview the page, click the Actions menu and select "View listing".

How does a customer interact with my listing and make a purchase?
Customers can browse your listing on GovX.com and click to generate a single-use discount code valid in your store. After generating the code, we will redirect the customer directly to your website to make the purchase. Since all orders are placed directly within your store, they can be fulfilled with your normal process.
What does it cost to list my store on GovX.com?
There is no charge to list your store in the GovX Marketplace! You are only charged when a customer finds your listing on GovX.com and makes a purchase on your site. In this case, GovX will take a 15% sales commission on the order as a referral fee.
The sales commission is calculated based on the order subtotal of all items in the order after both line-item and cart discounts have been applied, but excluding taxes and shipping. For the purpose of illustration, consider a GovX member that makes the following purchase on your site. In the example, we're showing a theoretical 20% GovX ID discount, but that will depend on the discount threshold you've set in the app.
Example order
Product A
$100

Product B

$50

GovX ID discount

($30)

Order Subtotal
$120
GovX takes 15% (i.e. $18.00)
Shipping
$7.99
Tax
$1.50
Order Total
$129.49
Less GovX Fee
($18.00)
You Earn
$111.49
As you can see, the sales commission is calculated based on the order subtotal (not the order total).
Keep in mind, you are only charged a sales commission for orders that start on GovX.com. If a military customer finds your online store directly and redeems a GovX ID discount, you are NOT charged for this order (because we didn't refer it from GovX.com).
What about cancellations or refunds?
GovX does NOT back out sales commission for refunded or canceled orders. If an order is placed by a customer we refer from GovX.com, we will charge sales commission on that order. If that same order is later canceled or refunded, the sales commission is still payable.
The reason we charge sales commission on all orders placed is that we cannot control the post-purchase experience. We deliver value when we market your brand on GovX and send you a new customer - regardless of what happens with that order later.
How does billing work?
Order tracking and billing are seamlessly integrated with the GovX ID Shopify app. We track orders redeemed by customers we refer from GovX.com based on the unique discount code used. If the code was issued on GovX.com and subsequently redeemed on an order, we will charge a sales commission on that order.
Sales commission is billed once per month. The GovX billing cycle resets on the 28th of each month. That is the date we send your total charges to Shopify. However, the date that you actually pay for the sales commission charges depends on your bill date in Shopify, since Shopify consolidates all app charges into a single bill.
The total due for each billing cycle will show up in the "App" section of your Shopify Bill.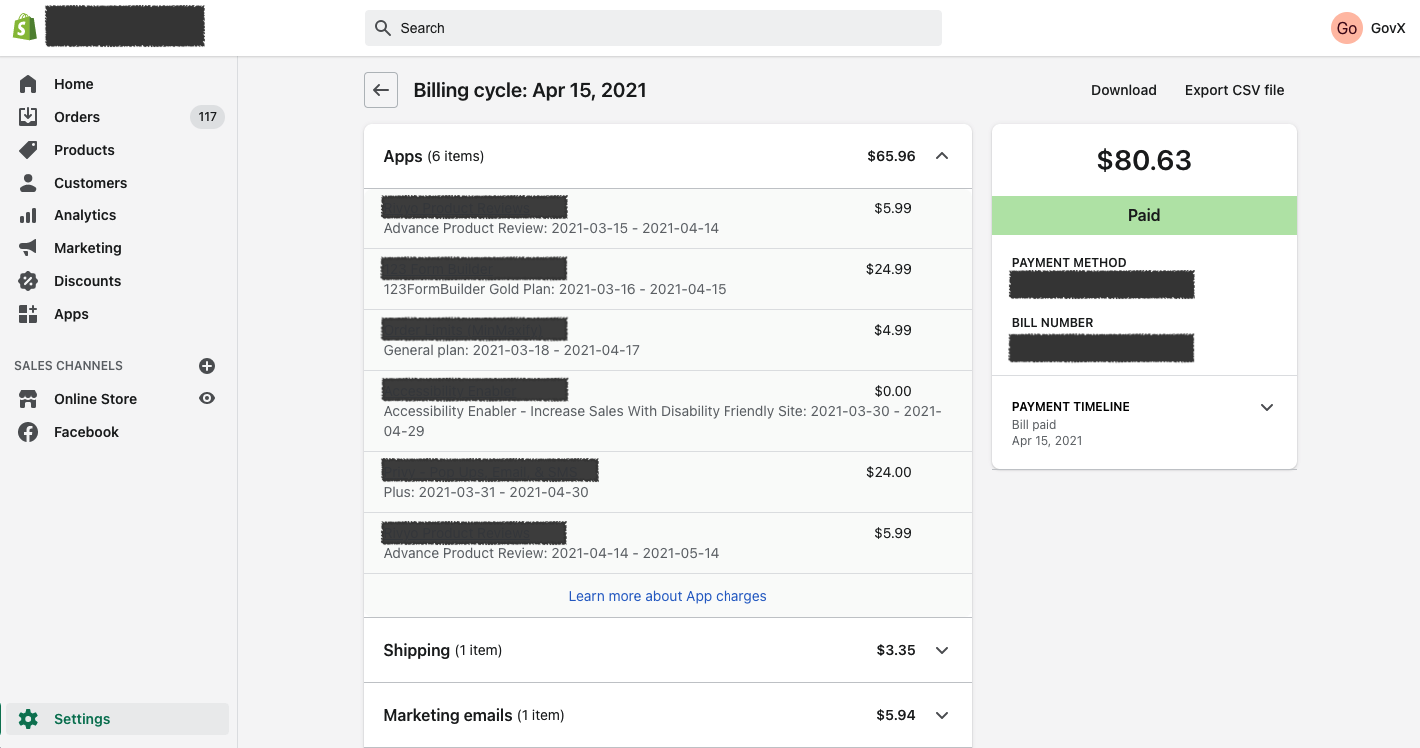 If you have any questions throughout the process, please contact us at partnersupport@govx.com.