The GovX ID app for Shopify makes it easy for any store owner to deploy a military or first responder discount in minutes... no coding required. You can find the app here in the Shopify App Store. 
Step 1 - Download the app
Log into your Shopify store and click on the Apps menu. Then click the button to visit the Shopify App Store or click directly on the link above to access the GovX ID Military Discount app. After you walk through the install process, the app will show up in the app menu for your store as shown below.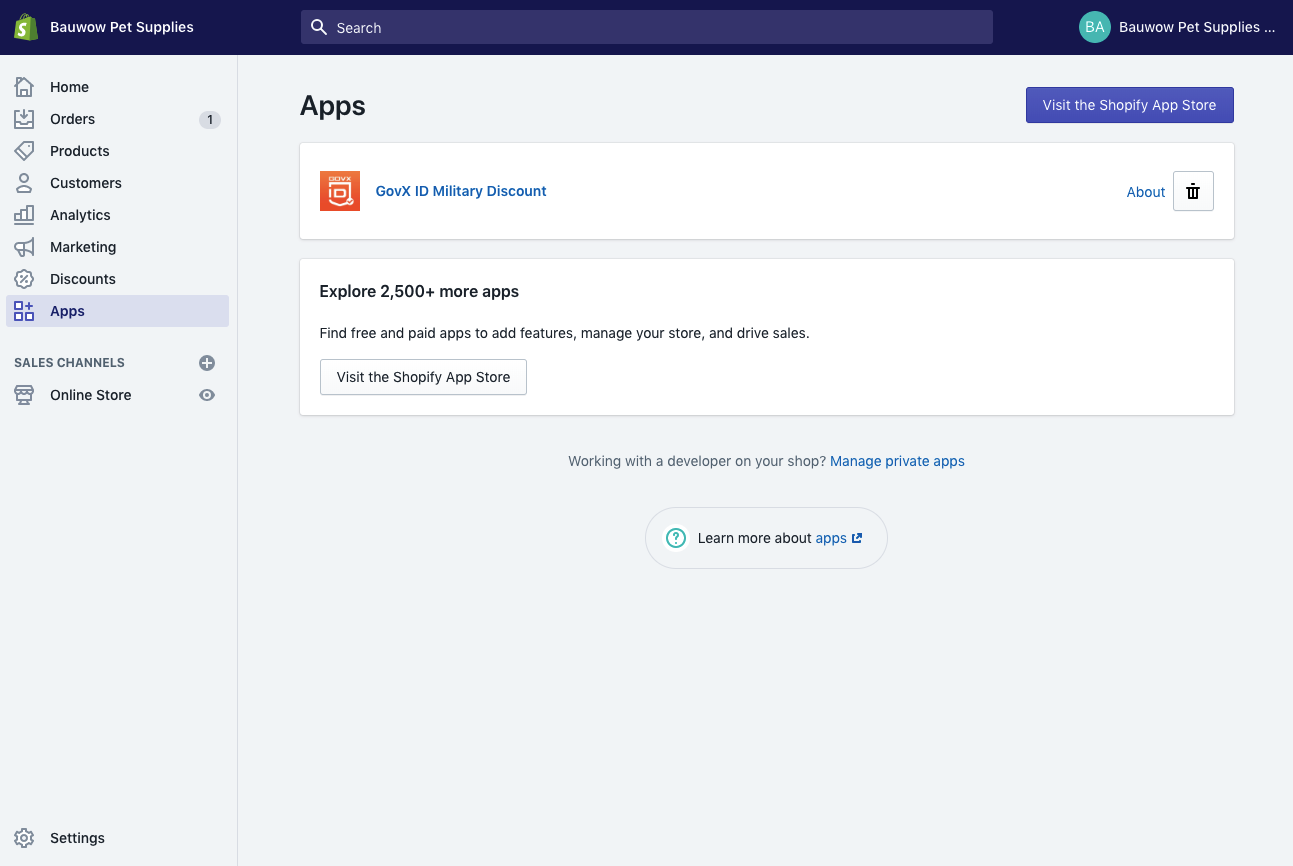 Step 2 - Configure your settings
After downloading the app, you'll need to configure your settings. This will only take a minute and allows you to control the offer, branding and messaging of your military discount program. You can control the following settings.
Setting
Description
Eligible groups

This lets you control who you want to target with your discount offer. You can select:

Military (includes active duty and veterans)
Military Families (includes spouses and dependents)
First Responders (includes fire, police and EMS)
Government Employees (includes federal, state and local government employees)

Logo

You can upload a logo that we'll display in the verification flow. This keeps your brand front-and-center throughout the process. 

Landscape/horizontal logos are recommended and should be at least 40px tall.
Square or vertical logos should be at least 100px tall.
Logos should be on a transparent background.
Supported file types are JPEG and PNG.

Welcome message

Your welcome message will be shown on the first verification screen. You can use this text to reiterate your offer (ex: Acme Widget Company thanks you for your service with our military discount). There is a 250 character limit.

Discount

Once a customer has been verified, we will issue them a unique coupon code. You can control the coupon settings as follows:

Discount type (percentage or fixed amount)
Discount value (i.e. 20% or $5)
Limit what the coupon applies to, including the entire order, specific collections or specific products
Set a minimum purchase requirement
You can update these settings at any time. Changes will be reflected immediately.
Step 3 - Deploy the app in your store template
Once you've configured your settings, it's time to deploy the offer in your store template. We've made this super easy, but we also give you a ton of flexibility... the best of all worlds. 
Option 1 - Use the GovX ID Offer Button
Copy the GovX ID offer button div from the Deploy menu in the app admin.

 

Paste the GovX ID button div into your cart template ('cart.liquid').

Note: this only works if you're using the cart page in your template. If you're using the cart drawer, you will need to use the custom deployment below.

 

After you've published the app (see step 4 below), the GovX ID offer will automatically appear on your cart page.

 
Option 2 - Custom Link
Copy the offer link from the Deploy menu in the app admin.

 

Paste the link... wherever you want! For example, you could build a custom Military Discount page on your store that highlights your offer. In fact, creating a Military Discount landing page is a great way to capitalize on SEO traffic as well.

 

You can also add a CTA to your cart drawer by manipulating the 'ajax-cart-template.liquid' snippet.

This implementation allows you to create a completely custom presentation of your military offer.

 
Step 4 - Publish the app
Once your done, simply click "Publish" in the upper right corner of the app admin. We'll ask you to confirm and then you're all set! Once you've published the app, you'll see content appearing on your store. If you ever need to pause your program, simply unpublish the app and we'll automatically stop giving out discounts (and message appropriately to your customers).
Reporting
Once you're up and running, visit your Dashboard to get reporting on the number of verifications, coupons distributed and purchases. 
If you have any questions throughout the process, please contact us at shopify@govx.com.